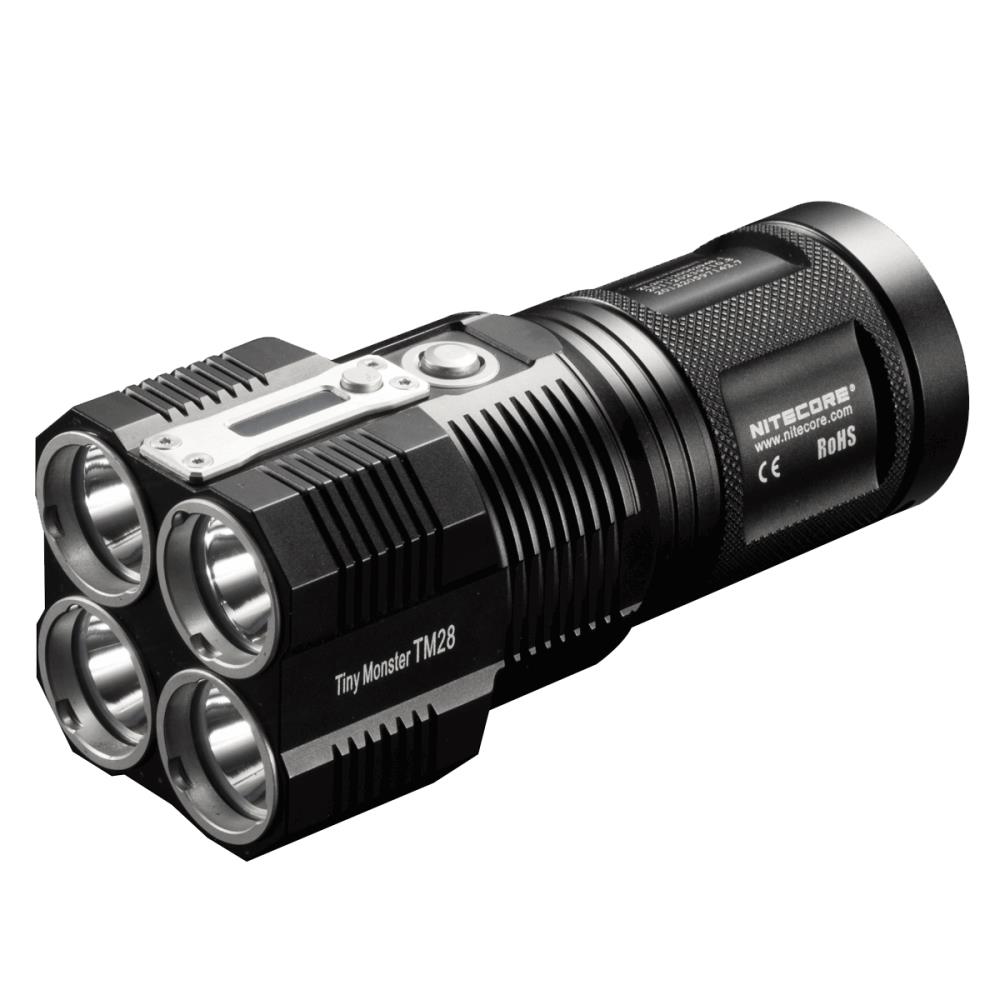 FLASHLIGHT TINY MONSTER SERIES/6000 LUMENS TM28 NITECORE
The Nitecore Tiny Monster TM28 has an impressive maximum output of 6000 lumens from the Cree XHP35 HI and can be powered using either 4 x Li-ion 18650 or 4 x IMR 18650 batteries (included), which provide the higher output. 

The latest addition to the Tiny Monster series, the TM28 is compact and easy to use with just one hand. The flashlight has a multi-functional dual-stage side switch which provides access to all five brightness levels, plus the location beacon, SOS and strobe modes.

The Nitecore searchlight has an onboard OLED display which gives an overview of the torch operation, including the brightness level, battery level, battery voltage, remaining runtime and operating temperature. 

The TM28 features two modes which provide suitable lighting for a range of situations. Daily Mode can be accessed by partway pressing the switch or press the switch fully to enter search mode, which accesses only the high and turbo brightness level.

The flashlight comes with a charger which can be directly plugged into the torch and has a UK wall plug. The TM28 is compatible with various battery packs, including the NBP68, in addition to being compatible with a tripod, thanks to the onboard tripod receptacle. The TM28 has a sturdy tail stand design which allows for stationary light.

Brightness Levels:
Using 4 x IMR 18650 Batteries
Turbo: 6000 lumens - 45 mins runtime
High: 2300 lumens - 2 hrs runtime
Mid: 1000 lumens - 4 hrs 30 mins runtime
Low: 320 lumens - 11 hrs 15 mins runtime
Ultralow: 2 lumens - 1000 hrs runtime
Using 4 x Li-ion 18650 Batteries
Turbo: 4500 lumens - 1 hr runtime
High: 2300 lumens - 2 hrs 15 mins runtime
Mid: 1000 lumens - 5 hrs runtime
Low: 320 lumens - 14 hrs 30 mins runtime
Ultralow: 2 lumens - 1000 hrs runtime

Plus Location Beacon, Strobe and SOS modes.

Maximum beam distance 655 meters, waterproof to IPX-8 and resistant to impacts up to 1 meter.

Includes: power adaptor, wrist lanyard, holster, wrist lanyard, charging port cover, flat top battery connector and 4 x IMR 18650 3100mAh batteries.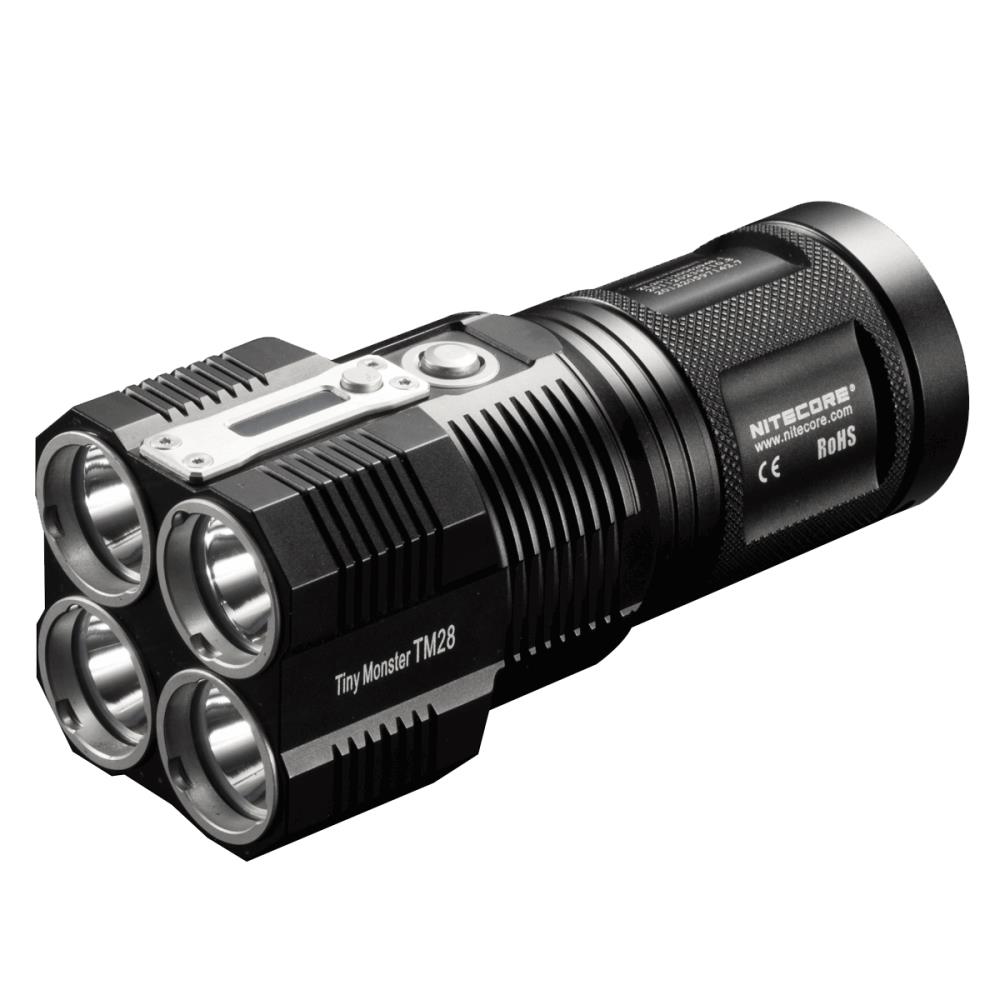 Tehniskā specifikācija
Unit Gross Weight

0.91kg

Unit Net Weight

0.414kg

Shipping box quantity

1

Colour

Black

Battery run time up to

1000hours

Battery

Lithium-Ion rechargeable

Unit Brutto Volume

0.002767cubm

Light output

6000Lumen

Shipping Box Width

10cm

Shipping Box Depth

20.5cm

Shipping Box Height

13.5cm

Shipping Box Weight

0.91kg

Model name

TM28

IP Rating

IPX8

Max Beam distance

655m

Special modes

Location Beacon,SOS,Strobe

LED

4 X CREE XHP35 HI

Illumination application

Flashlight

Flashlight series

Tiny Monster

CnCode

85131000